Venue / Access Map
Venue
Matsue is the capital of Shimane Prefecture, which is located in the south-west of Japan's largest island, north of Hiroshima Prefecture. There are two domestic airports near Matsue, Izumo and Yonago Airport. Both airports are connected in 80 minutes from Tokyo Int'l Airport. Izumo Airport is also connected in 50 minutes from Osaka Int'l Airport. Yonago Airport is connected in 90 minutes from Inchon Int'l Airport 3 direct flights a week. The airport shuttle buses are available from both airports to Matsue JR Station. It takes about 30-40 minutes.

The Symposium will take place at "Kunibiki Messe" (Shimane Prefectural Convention Center), which is located in downtown of Matsue City. It takes about 7 minutes on foot from JR Matsue station to "Kunibiki Messe".

Address
"Kunibiki Messe" (Shimane Prefectural Convention Center)
1-2-1 Gakuen Minami Matsue City, Shimane Prefecture, 690-0826 Japan
Phone: +81-852-24-1111
Fax: +81-852-22-9219


Access to Matsue City (Access Map)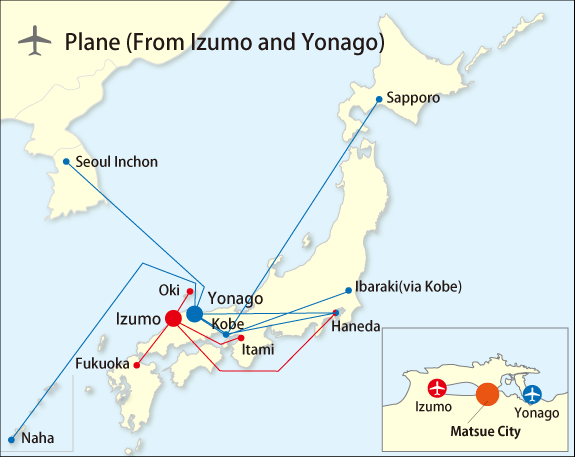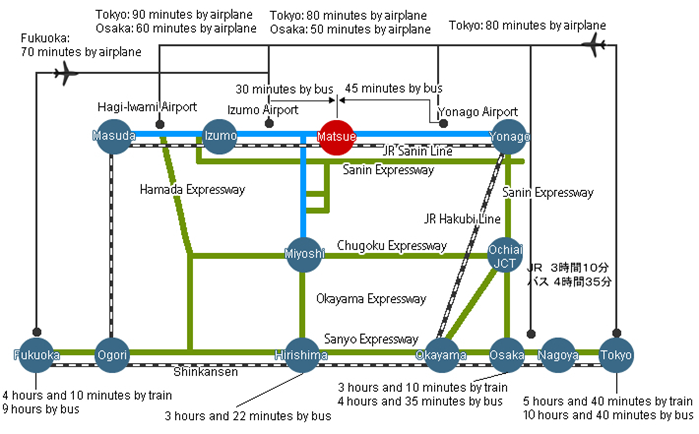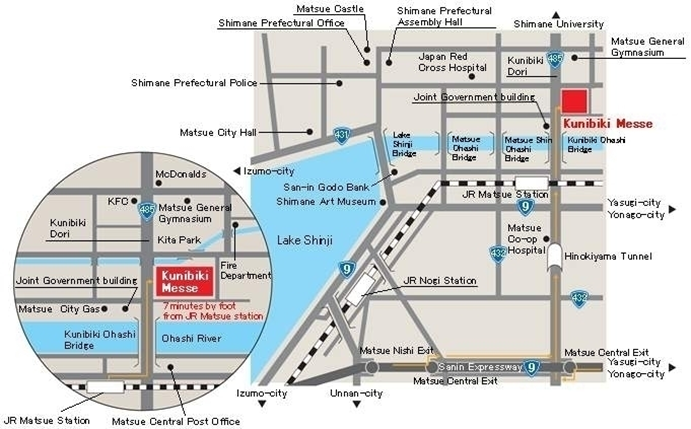 The Kunibiki Messe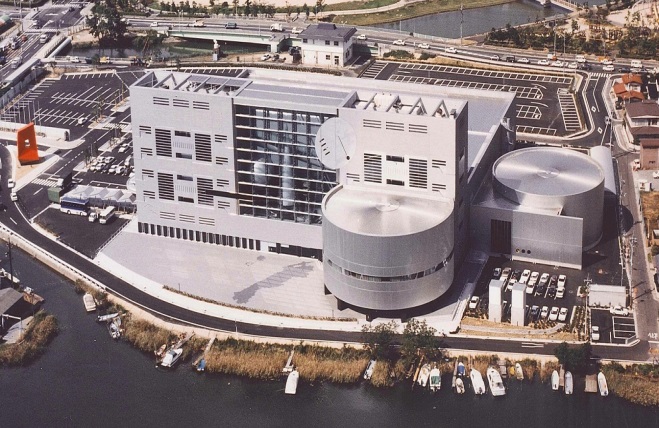 Large exhibition hall : 4018 m2 (Up to 5,000 ppl)
International Conference Room : 616 m2 (Up to 510 ppl)

The Kunibiki Messe (Shimane Prefectural Convention center) is the biggest convention center with exhibition halls and conference rooms in surrounding region. It is suitable to the venue for ISEM. The International conference hall is ideal for plenary sessions and one of the parallel sessions. For other parallel sessions, two large conference rooms, 601 and 501, accommodate 150 seats each, 401 conference room, and 403 conference room are available. The Small hall will be available for poster session.

Transportation
Izumo Airport (Webpage Japanese Only)
Yonago Airport
Airport Shuttle Bus Service
| | | |
| --- | --- | --- |
| Yonago Airport-->JR Matsue Station | Approx. 45 min. | 990 yen |
| Izumo Airport-->JR Matsue Station | Approx. 30 min. | 1,030 yen |
| Izumo Airport-->Matsue Shinjiko Onsen Station | Approx. 40 min. | 1,130 yen |
Travel Time
Plane (From Izumo and Yonago)
| | | |
| --- | --- | --- |
| Izumo-Haneda | Approx. 1hour 20min. | 5 round trip flights/day |
| Izumo-Itami | Approx. 50 min. | 5 round trip flights/day |
| [ANA]Yonago-Haneda | Approx. 1hour 20 min. | 6 round trip flights/day |
| Yonago-Kobe | Approx. 40 min. | 2 round trip flights/day |
| Yonago-seoul | Approx. 2hour 5 min. | 1 round trip flights/day |
Train (JR)
| | |
| --- | --- |
| Osaka-Matsue | Approx. 3 hours 10 min. |
| Tokyo-Matsue | Approx. 5 hours 40 min. |
Bus
| | | |
| --- | --- | --- |
| Hiroshima-Matsue | Approx. 3 hours 15 min.(Limited Express) | 18 round trips/day |
| Okayama-Matsue | Approx. 3 hours (via Yonago) | 7 round trips/day |
| Tokyo-Matsue | Approx. 11 hours (Overnight Bus) | Daily |
| Osaka-Matsue | Approx.4 hours 40 min. | 6 round trips/day, Overnight Bus |
Link
Matsue City VISIT MATSUE
Shimane Prefecture Sightseeing Navigation in Shimane
Kunibiki Messe Kunibiki Messe
Matsue Convention Bureau Matsue Convention Bureau/Kunibiki Messe